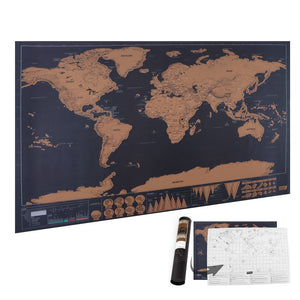 Black History Buff
Black History Buff scratch off World Map - Perfect for students, parents and teachers
Sale price Price $26.00 Regular price
Tax included.

This scratch Off World Map let's you experience the fun of showcasing all places you have been or have studied.
We all wish we could travel more, sometimes we could do with a little extra motivation to book that holiday or exotic trip. Imagine how satisfying it will be to scratch the places you've been off your list while being able to visualise all the places your are going.
*Special bonus* listeners to The Black Buff Podcast can buy this using a special discount code. Check out the show available on all major platforms for more details.
The black background with copper foil makes it look more stylish on any wall and it's a great conversation starter.
Scratch Off World Map Deluxe Edition offers incredible complex geographical details such as land and ocean connected parts.
Allowing you to experience a more complete view of the world on the map. This high-quality can be painted on the outside of the map is a layer of gold-plated sheet.
The exquisite cylinder packaging, means that this sent as a gift to a loved or enjoyed as a special treat to your self.

Specification:
Type: World Map
Material: Paper
Quantity: 1 pc
Item Color: As show
Size: 42*29cm/16.5*11.4" (L*W)
Net Weight: 29g /1oz


Package:
1*World Map
1*Package Box